Colour is my passion.
I love to create paintings breaking down the colour barriers resulting in semi abstract and abstract pieces to bring calm and escapism to any space.
Creating atmospheric work
Gently blending, mixing, layering to capture movement depth using oils acrylics and mixed media my love for my work translates on to the canvas and each piece is uniquely executed.
I cannot get enough of ocean and landscape.
My love of blue is apparent but all colours excite me. My vision is to create a piece of art which is unique and will add beauty to any room, both traditional and contemporary.
I am on Saatchi, British Contemporary art websites. Over the years I have exhibited in galleries and currently am part of a group exhibition in New York.Art fairs I have been part of … Roy's people, Barge House and Oxo Tower. Surrey Contemporary Art fair, Bath Art fair, West Sussex Art Fair, New Art Fair London.
This year I was part of a collective in London paying homage to Colour at Barge House but has been postponed due to Covid 19
I have featured in Conde Nast 'Vogue' and "House and Garden' magazine.
I have been interviewed by an online magazine and have won two 'runner up' prizes with Art magazines.
I returned to art a few years ago, in a very short space of time my work has sold all over the world including Argentina, New Zealand, USA, Ireland and the UK….
It is sheer joy to create pieces of Art for someone who will love it.
---
Buyer Testimonials
Susan – USA
We JUST got the painting back. I know the artist wanted to see it in place.I have attached pictures. It is gorgeous and I don't think my pictures do it justice. We have an open floorplan and so it makes a statement from the moment you walk into our house. Thank you again. We love it!
Susan
Gemma – UK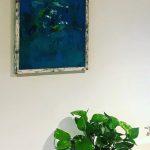 Eleanor's paintings are all stunning and I couldn't be more delighted with 'Unruly Garden'.  This piece has real depth and the colours and textures draw you in just like the garden it represents.
GEMMA
Uk
Toni -USA
I have six of Eleanor's paintings in my Charleston home and each one brings a different vibe to the room.   For our wedding anniversary, my husband surprised me with a three-series set of abstract paintings that work perfectly in our sunroom, providing a whimsical yet sophisticated splash of colour.  I love looking at them every morning with my coffee – makes me feel i'm at the sea.
TONI
Usa
Niamh – Ireland
BREATH..
To anyone interested in the work of the artist Eleanor McKnight I can only describe her work as the Breath of Life.   I am not creative or artistic but I know when I look and enjoy both of my beautiful paintings I breath deeply, I feel tranquil and I let the beautiful feeling of the ocean wash over me.. I feel fantastic.   You are wonderful Eleanor.  I look forward to purchasing my next Eleanor original.  Keep creating..
NIAMH
Ireland.
Mike – USA
One of the things I love so much about having Eleanor's work on my walls is how well each piece works in the space.  Whether it's an abstract or more realistic expression – her use of rich colours and textures are presented in a beautifully balanced way.
I don't think you can have too many of these.
MIKE
Usa
Sue H – UK
As soon as I saw this painting it came alive, as it depicts  a precious exciting moment from my past.

The colour & vibrations it sends out are perfect

Xxx

Eleanor McKnight