Susan – USA
We JUST got the painting back. I know the artist wanted to see it in place.I have attached pictures. It is gorgeous and I don't think my pictures do it justice. We have an open floorplan and so it makes a statement from the moment you walk into our house. Thank you again. We love it!
Susan
Gemma – UK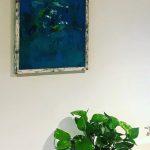 Eleanor's paintings are all stunning and I couldn't be more delighted with 'Unruly Garden'.  This piece has real depth and the colours and textures draw you in just like the garden it represents.
GEMMA
Uk
Toni -USA
I have six of Eleanor's paintings in my Charleston home and each one brings a different vibe to the room.   For our wedding anniversary, my husband surprised me with a three-series set of abstract paintings that work perfectly in our sunroom, providing a whimsical yet sophisticated splash of colour.  I love looking at them every morning with my coffee – makes me feel i'm at the sea.
TONI
Usa
Niamh – Ireland
BREATH..
To anyone interested in the work of the artist Eleanor McKnight I can only describe her work as the Breath of Life.   I am not creative or artistic but I know when I look and enjoy both of my beautiful paintings I breath deeply, I feel tranquil and I let the beautiful feeling of the ocean wash over me.. I feel fantastic.   You are wonderful Eleanor.  I look forward to purchasing my next Eleanor original.  Keep creating..
NIAMH
Ireland.
Mike – USA
One of the things I love so much about having Eleanor's work on my walls is how well each piece works in the space.  Whether it's an abstract or more realistic expression – her use of rich colours and textures are presented in a beautifully balanced way.
I don't think you can have too many of these.
MIKE
Usa
Sue H – UK
As soon as I saw this painting it came alive, as it depicts  a precious exciting moment from my past.

The colour & vibrations it sends out are perfect

Xxx